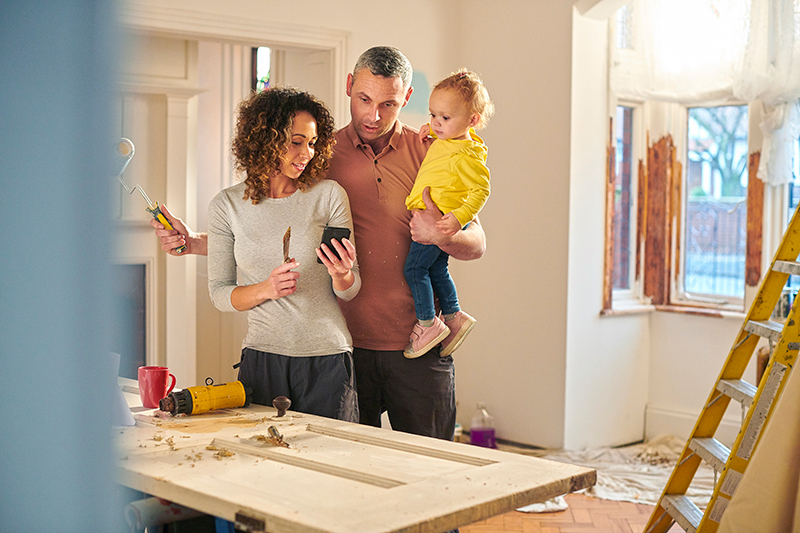 Do you enjoy DIY projects? Do you love sprucing up your home from time to time? Small renovation projects like new flooring, paint, or even furniture can transform a whole room, but they can also impact the air quality in your home.
Flooring
The floors in your home absorb a lot of wear and tear, especically common areas and entryways. The type of flooring in your home can affect your IAQ. For example, just walking across a plush rug can stir up allergy triggers like dirt, dander, and dust mites. Carpets and rugs tend to attract and hold particles.
Particles can linger on hard surfaces, too, like laminate, tile, or wood flooring. Usually, after some build-up, we can see the dust and dander on hard surfaces.
So, if you're thinking about replacing the flooring in your home, think about traffic patterns and uses. Hard flooring that can be easily wiped down and disinfected is probably best in high-traffic areas. You can use smaller area rugs or mats by your doorways to protect your new flooring.
Cleaning During & After Projects
If you're brave enough to tackle small projects in your home, be sure that you're cleaning up after each phase of construction. Ripping up flooring can stir particles, and the glues and adhesive you encounter can be odorous. Always wear recommended safety gear such as a mask and eyewear.
Vacuuming can be tricky. The American Lung Association advises that while vacuuming is another way of making these particles airborne, it's still a good idea to vacuum the carpet frequently. Regular vacuuming of the new flooring is the key to success in managing your IAQ at home. Carpet cleanings with steam are also recommended less frequently.
If you're working in small spaces, you can also tarp and tape off areas of the home that are not being renovated. This step reduces the likelihood of particles stirred up by your project traveling from room to room but does not eliminate this possibility.
Furniture
New furniture can enhance the appeal of your space, but it can contribute to a decline in your air quality as well. Particles can linger on your furniture just as they do on carpets and rugs, and new furniture may also introduce fumes fabrics treated with chemicals, as an example.
Wiping down or dusting smooth surface furniture, and/or vacuuming soft surfaces can help eliminate those pesky particles.
Paint
Fresh paint can brighten up your home and is an easy DIY for most people. However, interior paint can bring in unwanted fumes into the house. Not all paints and stains are equal; they can be oil-, latex-, or water-based. Make sure you have plenty of ventilation and wear the proper safety gear. A good rule of thumb is to leave a freshly painted room ventilated for 72 hours after the final paint application. If you live in an older home, be sure to check the existing paint type before painting over walls or trim.
Being a DIYer can be both very rewarding and fulfilling. Of course, learning new skills and admiring your work is the best feeling when the job is complete. But don't forget that your projects can affect you, your family, and the air in your home.