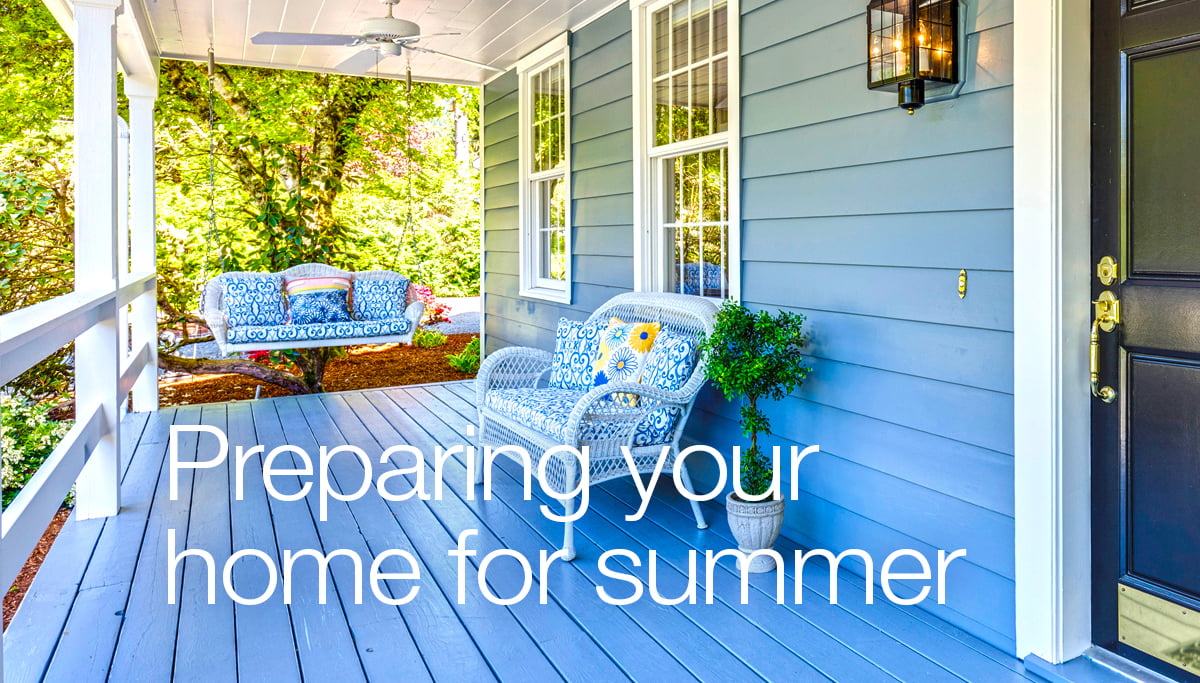 Our current state of affairs leaves something to be desired, but the good news is that summertime is right around the corner! Summer brings many wonderful activities: barbecues, picnics, beach vacations, camping, and lounging poolside. Before you kick back, we have some ideas on how you can prep your home for the hot summer months. This overview provides IAQ tips for each room in your house.
Entryway and/or Mudroom
It's best to have a designated spot in your home to leave outdoor things like hats, shoes, and sandals. You, your family, and your guests can unwittingly bring inside with you particles such as dirt, sand, pollen, and allergens. It's okay to politely ask your guests to remove their shoes, and don't forget about your furry friends. Keep kid- and pet-friendly wipes close by, so that you can clean little feet and paws before they walk around your home. If your pets tend to scratch and lick frequently, wipe off your pets' faces as they enter the house, too.
Kitchen and Bathroom
With the warmer temperatures, most areas of the country see an increase in humidity as well. Keep excess indoor moisture at bay by running an exhaust fan or cracking open a window in your kitchen when cooking and running the dishwasher.

When taking a shower or bath, run an exhaust fan or open a window during and afterward for 20-30 minutes. Do your best to avoid producing steam if you don't have either a window or a fan in your bathroom. When cleaning your bathroom, take a look at your plumbing fixtures. Leaky pipes can produce mold at any time, but especially in warmer months.
Living Room and Family Room
We spend most of our waking hours in our family room or living room. If you or someone you live with has seasonal allergies, routinely dust and vacuum to reduce allergy triggers. If you have curtains or blinds, you should vacuum or wash them at least once a month. Vacuum attachments can help you reach those difficult places. While vacuuming reduces dust in your home, it's best to shampoo any rugs or carpets regularly, too. You should also launder any blankets or throws you use frequently, especially if you allow your furry friends on your furniture.
Bedrooms
Of course, we spend roughly a third of our lives in our bedroom asleep. In order to keep indoor dust and irritants to a minimum, launder your sheets and bedding regularly. Here is a short list of suggestions by bedroom item:

Sheets: Launder every 1-2 weeks.
Pillows: Depending on your pillow material, wash or replace pillows every 6-12 months.
Duvets and Comforters: If you use your top cover, launder it every other month.
---
Patio and/or Deck
Spending time on the patio or deck is one of summer's greatest pleasures. Here are some tips for enjoying your deck or patio without compromising your indoor air.

Grills: Position them about 6-10 feet away from the house, aiming the smoke and fumes away from exterior walls.
Deck/Patio: Scrub or power wash your outdoor space on a regular basis, just like you would the floors in your home
Furniture: When not in use, it's a good idea to cover furniture. In addition to keeping your seating (and eating!) surfaces cleaner, you also prevent weather damage and soggy cushions.
Air Filtration
During the summer months while you run your air conditioner steadily, you should consider changing your air filter more frequently. You may want to upgrade your air filter, too, depending on your season allergy symptoms. To fight mold spores and pollen, you should have at least a MERV8 air filter. For extra insurance against bacteria and virus carrying particles, upgrade to a MERV10 or MERV13 air filter.