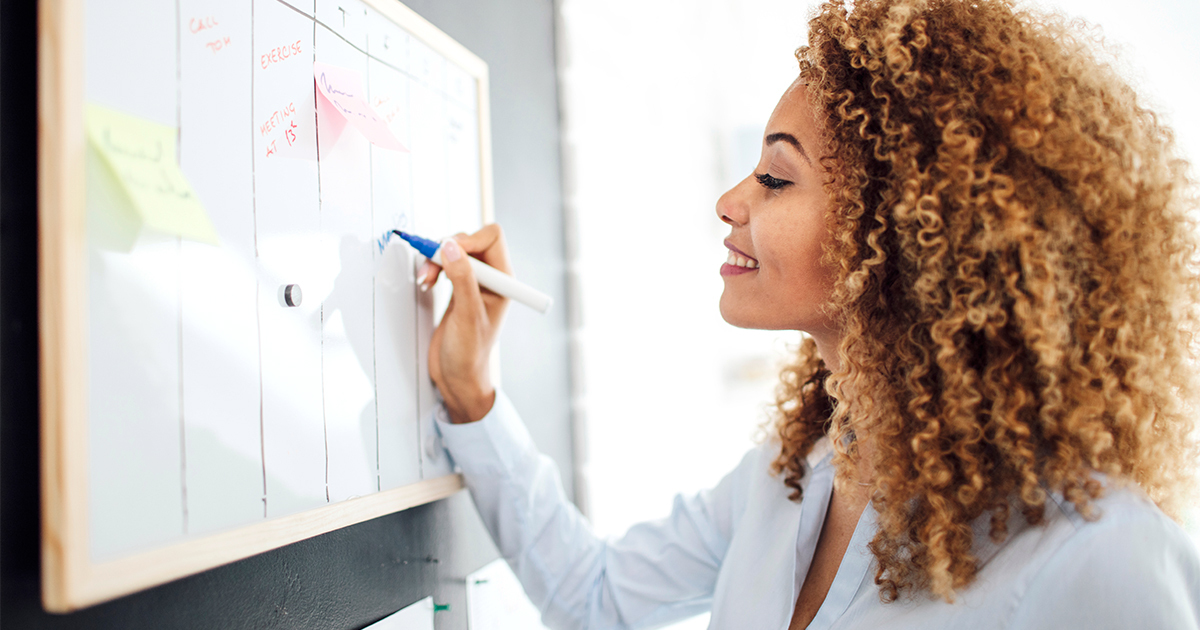 2020 has been a crazy year for most of us. We've changed a lot within our daily routines, homes, and social lives. It's been easy to let some things slide while other things take priority in today's climate. We wanted to challenge you over the next 30 days to catch up on chores you might have forgotten about over the past few months. Because we are spending our time indoors and at home, we need to prioritize clean environments for healthy living.
Rooms
Kitchen:
Day 1:
Remove all your clutter from countertops and open shelves. Items from mail to cereal boxes can accumulate.
Day 2:
Inventory your cleaning supplies, see what you have on hand, and purchase what you need.
Day 3: Throw away old kitchen washcloths or sponges and replace them.
Day 4: Fridge cleanout! Go through old or expired food and condiments. Sanitize the vegetable and fruit drawers and outside handles.
Day 5: If you have a garbage disposal, grind up a sanitizing pod or fresh lemon to get rid of odors.
Day 6: Go through your pantry cabinets. If you have a surplus of anything, think about setting those items aside for a holiday donation. Also, check expiration dates before reorganizing.
Day 7: Deep clean your stove/oven.
Day 8: Run a cleaning cycle on your dishwasher.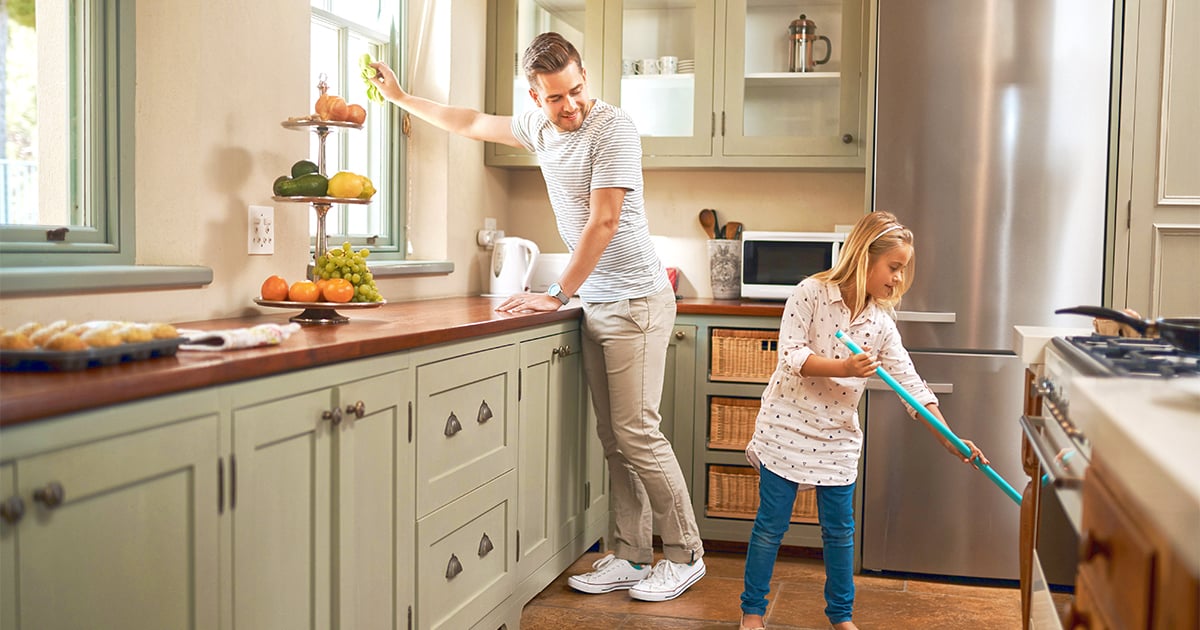 General Household:
Day 9: If you don't already have a houseplant, consider purchasing one.
Day 10: Get rid of old candles. If you enjoy the scent but hate the soot, opt for a candle warmer.
Day 11: If you have an indoor pet or pets, give your furry friend a bath and routine brushing.
Day 12: Deep clean your floors. If you have carpeted areas, thoroughly remove dust and dirt with a vacuum cleaner. Also, take the extra step and run a carpet cleaner.
Day 13: Have a designated spot for shoes and boots near the door or in your garage. If indoors, set out a mat or boot tray.
Day 14: If you use a fireplace in the colder months, clean it out periodically. You can also schedule an inspection with a local service.
Day 15: Windows! Wipe down the window frame, glass, and sills. If you have drapes, you might want to wash them or have them cleaned. If you have blinds, they could probably use a thorough dusting.
Day 16: Wipe down furniture. This task covers anything from the barstools in your kitchen to the leather couches in the family room.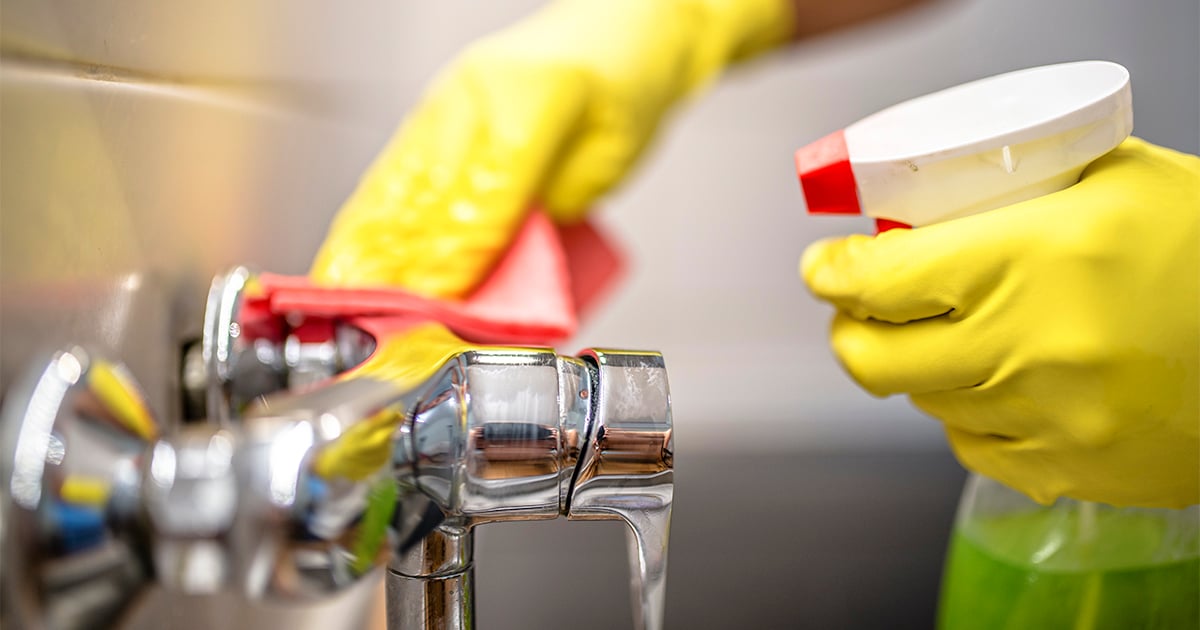 Bathrooms
Day 17: Sanitize your bathroom surfaces, sink, handles, countertops, and floor.
Day 18: Deep clean your toilets.
Day 19: Look and inspect for clogs in sink and shower drains. Remove any visible blockages.
Day 20: Clean your shower curtain or door. Alternatively, it may be time to replace the curtain with a new liner.
Miscellaneous
Day 21: Look under cabinets and in closets for cleaning products. Try to keep all those items together in one safe place. Consolidate and dispose of expired or unknown chemicals. If you have children or pets in the house, make sure to seal these chemicals as a precaution.
Day 22: Run a dust cloth over electronics and TVs.
Day 23: Add a humidifier to dry rooms.
Day 24: Add a dehumidifier to your basement if you have moisture issues. Moisture encourages the growth of mold and mildew.
Day 25: Wash all bedding. This might take a significant amount of time if you have a full house.
Day 26: Dust and organize bookcases and objects on the bookshelves.
Day 27: Wash all bath and hand towels.
Day 28: Clean ceiling fans and light fixtures. Turn them off before dusting and wiping them down.
Day 29: Look for cold drafts and cracks around the home and assess the need for repairs.
Day 30: Kick back and relax - you deserve it!