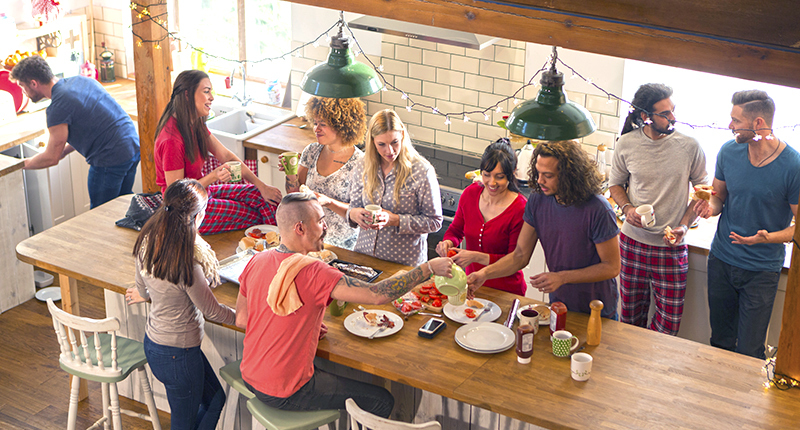 Summer is almost here, and you have probably started planning backyard get-togethers. Hosting guests can feel overwhelming, so we created this 30-minute checklist of tasks to fool everyone into thinking your house is always prepped for unannounced guests.
Smell
A great-smelling home creates an inviting ambiance and puts guests at ease. These two tasks should only take around 3-6 minutes to complete.
Grab your pillows and blankets off the couch and freshen them up in the dryer with a dryer sheet.

Light a candle or change out wall plug-ins. If essential oils are more your speed, load a diffuser with your favorite scent.

Clear Clutter
This task might take you more or less time, depending on your home's layout and where you plan on entertaining your guests. For example, if your bedrooms are all upstairs and you entertain downstairs, you can skip these rooms. Picking up can take around 10-15 minutes. Focus on the places where clutter tends to build up:
Countertops

Tables

Entryways

Family areas
If your guests are passing through your home, sweep those rooms for any eye-straining clutter. If you're entertaining outside, wipe off furniture. If you spot debris like grass or leaves, blow off or sweep the patio or deck.
Behind the Scenes
30 minutes is not a lot of time to pick up, so close off rooms and spaces you want to keep from your guests. Most people respect a closed door in a home. If you expect families to come over and have valuables or breakables, it is also a good idea to temporarily store them.
If All Else Fails...
The best rule of thumb is to wipe down surfaces.
Dust off major appliances, such as TVs, gaming consoles, stereos, etc.

Wipe off countertops in your kitchen and the bathroom that your guests will use.

Check for fingerprints and smudges on glass doors, appliances, and mirrors.
Relax and Enjoy Your Company
Now that you have prepped your home, you are ready to host your guests. Keep in mind that they are unlikely to remember much about your home, but they will remember the good times that you shared together.